Longboard Buying Guide: Bushings for Downhill
Bushings for Downhill
You've chosen downhill as the main style of riding you'll be doing!
Downhill Bushings
A double barrel bushing combo is the most common choice for this type of riding. However, when getting into downhill, you will soon find that riders can get very particular (and creative) with their bushing combos! When it comes to downhill the ultimate goal is to maintain speed and make it all the way down to the bottom of the hill safely, ready for another run. Since you're typically not sliding around or riding switch, the majority of setups will be directional. This can either be done by using an asymmetrical bushing setup, with "mis-matched" bushing combos in the front and rear. (Some riders even go as far as using different trucks in the front and rear!)
Because speed and control are the most critical aspects of downhill, a good place to start might be a combination of a stepped bushing boardside (such as a Barrical, Fat Cone, Wedge, etc.) and a barrel bushing roadside, both of the same durometer. This will give you a stable "center point" but still offer you plenty of control. (You can still even try some freeride with this setup. In fact, it might even get you more comfortable freeriding at higher speeds!)
| | Flexy | Medium | Stiff |
| --- | --- | --- | --- |
| 50 - 100 lbs | 65a | 78a | 81a |
| 75 - 125 lbs | 80a | 83a | 85a |
| 100 - 145 lbs | 85a | 87a | 88a |
| 125 - 175 lbs | 88a | 90a | 93a |
| 145 - 195 lbs | 90a | 93a | 94a |
| 175 - 220+ lbs | 91a | 93a | 100a |
Examples:
Click on a product to see more details.
RipTide APS Magnum + Washers Longboard Skateboard Bushings Pack
Quantity 1 = 2 bushings which is enough for 1 truck. Order quantity 2 for a complete longboard...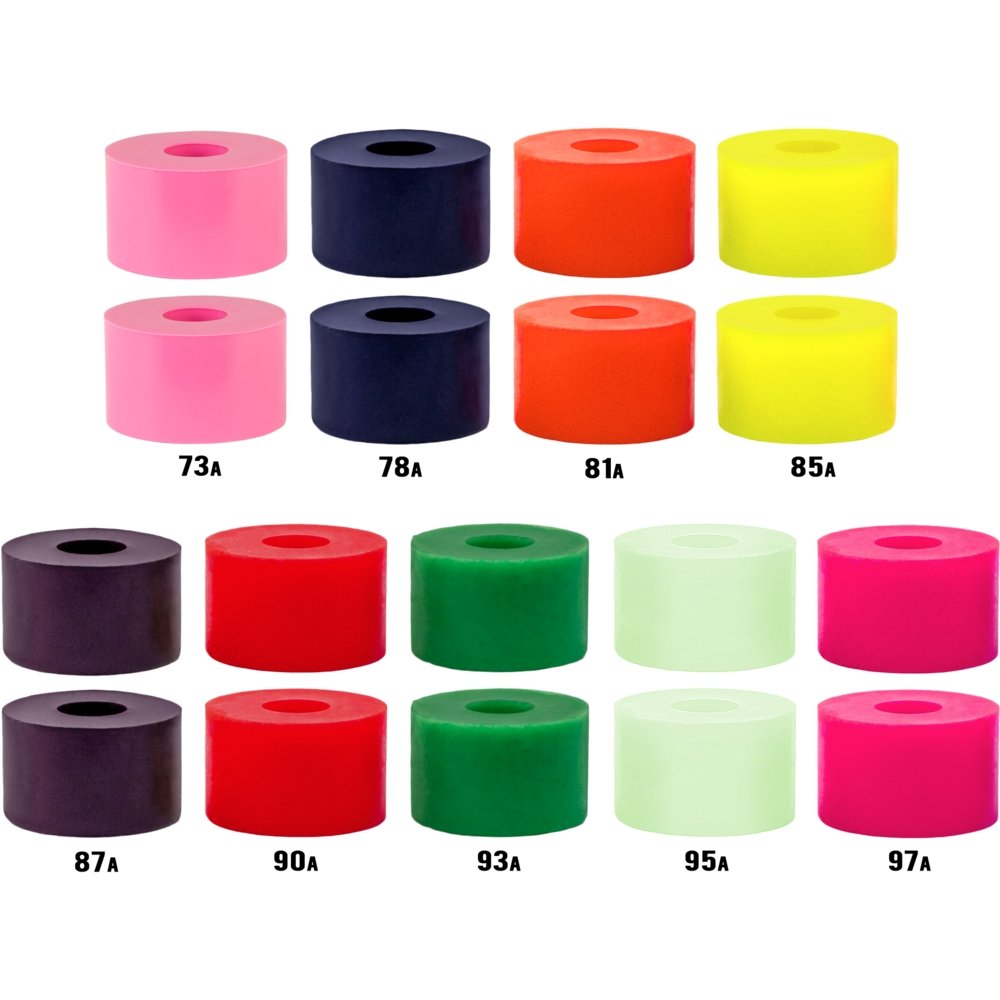 Venom: Barrel Bushings
Note: "Quantity: 1" is enough for one truck. Buy TWO (2) packs for your complete longboard! Wh...
Bushing Sacks
If you think you'd like a couple extra bushing options for further fine-tuning, check out our bushing "sacks"!
Examples:
Click on a product to see more details.
"Almost Precision" Truck Package
Rather than send you out on your own into the world of truck upgrades, we're stoked to offer an "Almost Precision Truck Upgrade Package!" This pack contains all you'll need to trick out your trucks and, if you've read this guide, you already know enough about bushings to make an educated decision! If you'd like to learn even more, check out the video below featuring Zak Maytum from Venom Bushings.
Examples:
Click on a product to see more details.
Advanced Tip
Once you get more comfortable at high speeds, we'd suggest you start playing around with a more technical (perhaps an asymmetrical) bushing setup. It could be as simple as swapping out your rear boardside bushing for a harder durometer in the same shape, or as complex as having all four bushings be different shapes and duros. If you'd like to try running a lower degree truck in the rear, just be aware that you should use a slightly harder set of bushings to compensate for the extra amount of leverage offered by the lower degree truck. This will help your back wheels maintain traction.